FBI eDO – NEW!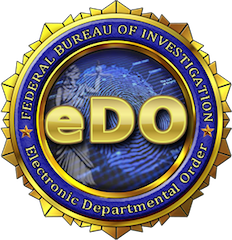 If you do not meet the criteria for Channeling services, you can now use the new FBI eDO process.
Go to:  https://www.edo.cjis.gov/#/ – enter your email address and start the process!
The process will include:
Completing the Applicant Information Form –
An e-mail address must be provided in order to initiate the application process. A secure link, along with a personal identification number, will be sent to the specified address and will be used to complete the online application. The same secure link and personal identification number will be used to check the status of your application and to access your results. You may optionally elect to have your results sent to you by First-Class Mail via the U.S. Postal Service.
Selecting your Preferences
Submitting your Fingerprints
Submitting Payment
Reviewing and Confirming your Request
Checking Request Status
Receiving your Results
You may mail your completed fingerprint card along with a copy of your confirmation e-mail to:
FBI CJIS Division
ATTN: ELECTRONIC SUMMARY REQUEST
1000 Custer Hollow Road
Clarksburg, WV 26306
The FBI will process your request upon receipt of your completed fingerprint card in the date order it was received.
Your fingerprints should be placed on a 

standard fingerprint form (FD-258

) commonly used for applicant or law enforcement purposes. The FBI will accept FD-258 fingerprint cards on standard white paper stock.
You must provide a current fingerprint card. Previously processed cards or copies will not be accepted.
Your name and date of birth must be provided on the fingerprint card.
You must include rolled impressions of all 10 fingerprints and impressions of all 10 fingerprints taken at the same time (these are sometimes referred to as plain or flat impressions). If possible, have your fingerprints taken by a fingerprinting technician. This service may be available at a law enforcement agency.
Fingerprints taken with ink or via live scan are acceptable.
The name on your response letter will match the name indicated on the fingerprint card.
If the last four digits of your Social Security number are needed on your response letter, then please ensure the full nine-digit or last four digits of your Social Security number is on the fingerprint card when submitting your request.
~~~~~~~~~~~~~~~~~~~~~~~~~~~~~~~~~~~~~~~~~~~~~~~~~~~~~~~~~~~~~~~~~~~~~~~~~~~~~~~~~~~
The Details:
The FBI has implemented a new option to electronically submit requests and receive responses for identity History Summary Checks and Identity History Summary Challenges. The new eDO option will allow for faster processing of requests.
For a fee, the FBI can provide individuals with an Identity History Summary, often referred to as a criminal history record or a "rap sheet," listing certain information taken from fingerprint submissions kept by the FBI and related to arrests and, in some instances, federal employment, naturalization, or military service.
If the fingerprint submissions are related to an arrest, the Identity History Summary includes the name of the agency that submitted the fingerprints to the FBI, the date of the arrest, the arrest charge, and the disposition of the arrest, if known. All arrest information included in an Identity History Summary is obtained from fingerprint submissions, disposition reports, and other information submitted by authorized criminal justice agencies.
The U.S. Department of Justice Order 556-73, also known as Departmental Order, establishes rules and regulations for you to obtain a copy of your Identity History Summary for review or proof that one does not exist.